For its durability, aesthetics and versatility, polished concrete is a trendy solution for commercial spaces. Many are convinced by its toughness and easy maintenance, however it is often its pristine appearance that will charm your clients and employees. In its natural state or stained and polished, we offer you several application possibilities. Our team will help you define these possibilities according to the characteristics of your environment.
Our technologies and solutions vary from simple polishing with sealant to the NeverStrip range of finishes. A polished concrete floor is easily maintained. Its properties render it a material well adapted to heavy-duty use and high traffic. You will also find our solutions for concrete restoration in the cleaning section.
With an existing concrete floor or a new concrete slab, various steps are carried out according to condition of your slab (contaminants, humidity rate, flatness, levelling and general conditions of the concrete). Our experienced team will realize your project, completing each operation in minute detail. Also, many variables are to be considered such as the type of concrete and the desired effect. CPL Solutions will analyse your concrete floor and propose the necessary steps and process to obtain the desired result.
A basic solution for you concrete slab includes polishing, grinding and the application of a sealant. Raw or polished, natural or stained, concrete is now accepted as a noble material. This process is our basic solution. The application of a sealant will lower you maintenance bill by reducing required polishing.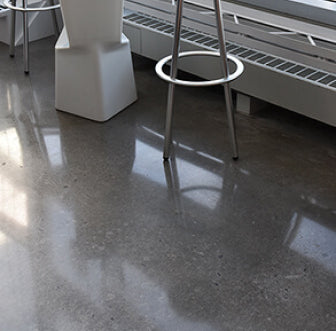 CPL Solutions is a certified NeverStrip distributor in Quebec. These products are made of a unique nanotechnology allowing the finish to adhere to dense floor-coverings by penetrating the pores. As well, considering their durability and the lack of petroleum products in their composition, NeverStrip floor finishes are incredibly respectful of the environment.
You wish to add a little colour? CPL Solutions offers concrete stains in 7 basic colours and more customized. Besides gaining a more resistant surface, you obtain your choice of polish (mat, satin or gloss) without worries and costs generally attributed to the maintenance of this type of flooring.